Summer Study Abroad Program
Solo Instrument, Voice & Chamber Music
Program Information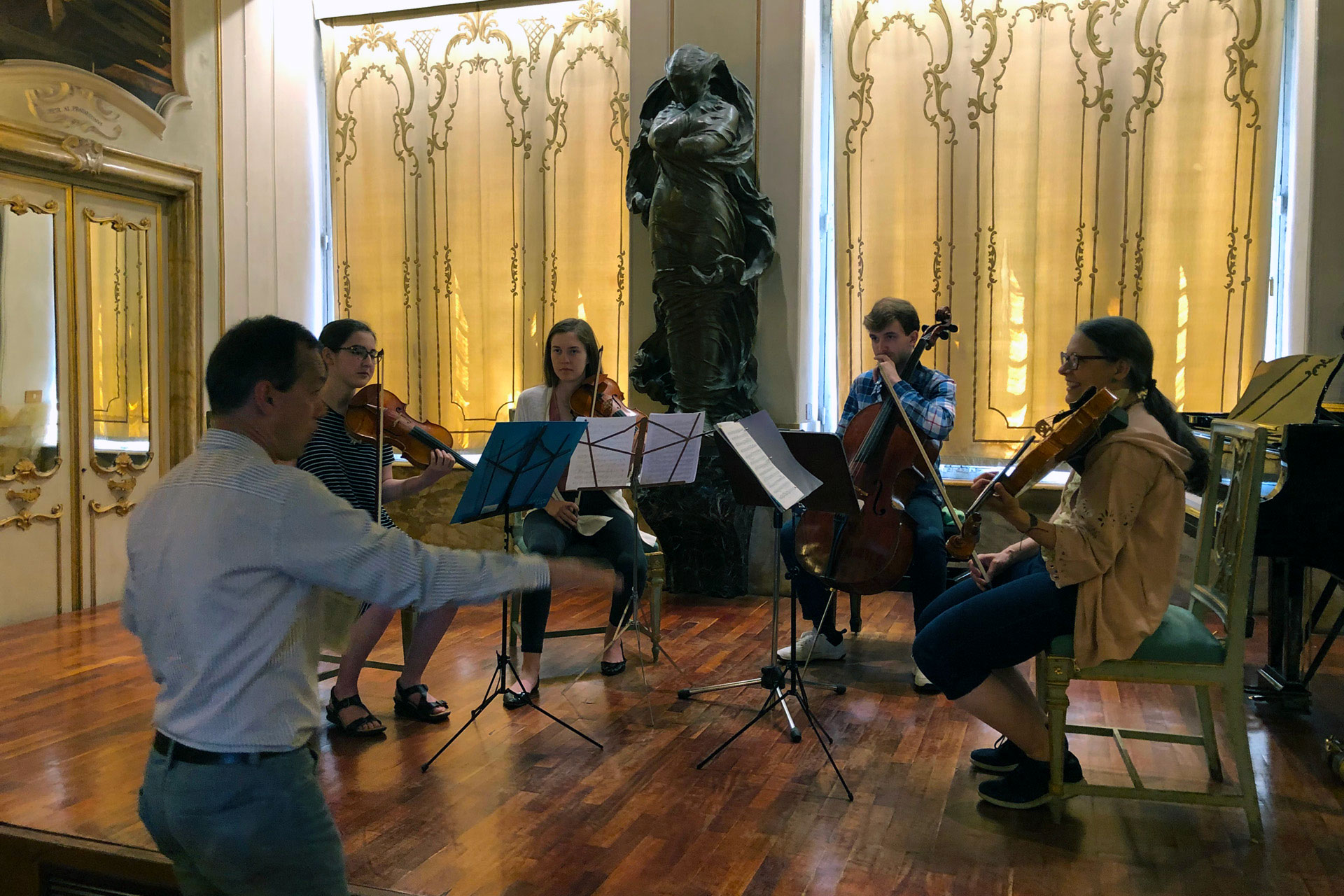 Overview
The C-GAP 6-WEEK STUDY ABROAD PROGRAM is a distinctive solo instrument, voice, and chamber music intensive program designed for undergraduate students. It seeks to prepare the young musician to take on a transformative, challenging role as an artist in the 21st century.
The 2022 SUMMER PROGRAM is part of the Chigiana Global Academy Programs (C-GAP). The program partners with the Florentia Consort, Southern Methodist University, and the University of Michigan, Ann Arbor. Additional partner universities are in the process of being added. Students from ANY university can apply and petition to receive credit for their coursework. Students have attended our program from CU Boulder, Oberlin Conservatory, Ithaca College, Princeton, and other universities.
Students will enhance their artistic skills through pre-professional experiences both in class and by performing in historical venues in Siena and around Italy.
What does the program offer?
The C-GAP Summer Program is an intensive opportunity to study abroad in Siena, Italy at the world renowned Accademia Musicale Chigiana. The program is tailored towards undergraduate students at U.S. universities and offers classes in performance studies (individual lessons), chamber music and music history. Participants will leave the Accademia Chigiana with course credit and a recording of the final concert.
Performance majors will participate in individual lessons and chamber music coachings in addition to performing in multiple concerts as part of the program's festival Primavera Chigiana. Students are also given the opportunity to study Italian language through daily morning lessons with our dedicated instructor. Participants will also perform in the aperitivo concert series, an informal 15-20 minute nightly concert at the ChigianArtCafè.
Led by Dean and Program Director Antonio Artese, the outstanding faculty is comprised of internationally recognized professional artists from a variety of backgrounds and disciplines.
Who should apply?
We invite applications from undergraduate students and those who have recently completed their undergraduate degree (2022 graduating class). Applicants should be in good academic standing and have a GPA of at least 2.75 on a 4.0 scale. Students from historically underrepresented groups are encouraged to apply.
The Program is open to all students from any accredited institution of higher learning and offers space to a maximum of 30 students.
We're ready for Summer 2022!

Application Deadline: March 15, 2022
Program Dates: May 16 – June 24, 2022
Arrive: May 14, 2022
Depart: June 24 or 25, 2022
Essential Links
Coursework
PERFORMANCE STUDIES
(3 credits)
Weekly private lessons, rehearsals and coaching in solo instrument and chamber music, master classes led by international faculty and guest artists. Concerts in Siena and other Italian cities provide an intense, formative experience for promising, young musicians.
MUSIC HISTORY
(3 credits)
The course in Music History (Italian Baroque Masters) will be enhanced by cultural visits to museums and libraries in Siena, Florence, and the surrounding areas.
ITALIAN LANGUAGE
(optional – no credit)
An efficient Italian language course for beginners to advanced students especially designed for the musician.
All courses will be taught in English by local and visiting faculty/artists.
Classes are held Monday-Thursday, and some weekends will be free of program commitments.
The Program
Participants will have private lessons and multiple coachings every week with an International Faculty, opportunities for performances in Siena, Cremona, and other prestigious locations in Italy, as well as, an enriching cultural experience abroad.
ARTISTIC ENTREPRENEURSHIP
Over the last five centuries, generations of students, scholars, and artists have been inspired by the Italian Renaissance. Examining artistic entrepreneurialism from both historical and current perspectives will at once empower and inspire students, thus preparing them to take on a transformative, challenging role as artists in the 21st Century.